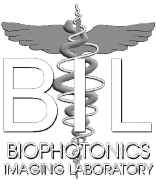 BIOPHOTONICS
is an exciting field that investigates fundamental principles and develops new optical technology for the interaction of light or photons with biological organisms, tissues, cells, and molecules.
Be a part of BIL! We have open positions for interested post-doctoral scholars and graduate students.
OUR UPCOMING CONFERENCES, SEMINARS, AND EVENTS
We'd love to talk and connect with you. Come find ...
January 22-27, 2022San Fransisco *fingers corssed*
We will update the list of all talks from BIL/COMI soon.
Date: January 22-27, 2022
Time: Yet to be decided
November 8-11, 2021Online
Label-free optical microscopy of millisecond-scale neural activity using phase-sensitive and polarization-sensitive full-field interferometry in optically sensitive neurons
Date: November 10, 2021
Time: 3:30-4:30 PM CST
October 26-28, 2021Online
Advancing Translational OCT to Assess Eardrum Dynamics and Middle Ear Infections
Date: October 28, 2021
Time: 1:15 PM EDT